PULASKI COUNTY, Ark. -- The Pulaski County Special School District Board of Education awarded the fourth quarter Inspiration in Education award for the 2021-2022 school year at its board meeting on May 10, 2022.
The fourth, and final, installment of this school year's Inspiration in Education award was presented to Angela Thomas, security officer at Sylvan Hills Middle School. There were nearly 30 PCSSD employees among the nominations for this fourth quarter award with 12 employees receiving votes.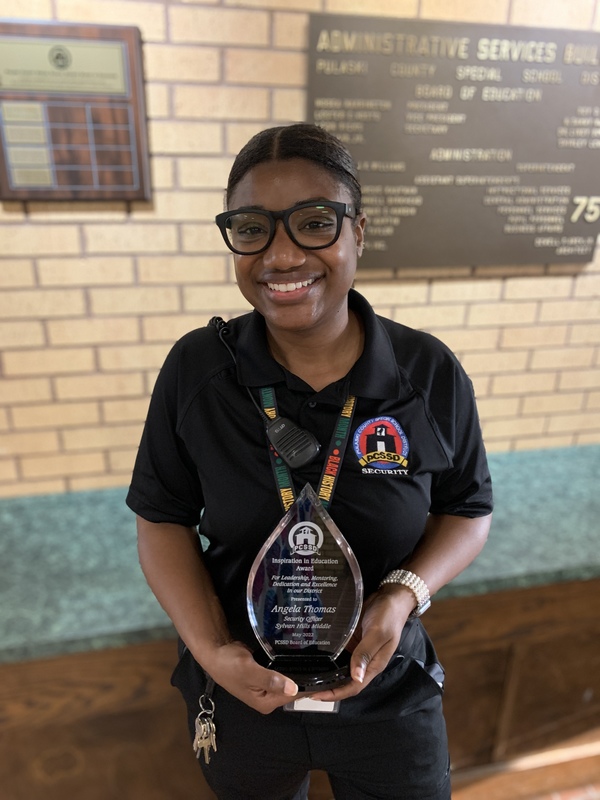 As a school-based security officer, the job is to help provide and ensure the security and protection of all students, staff, and property. Angela Thomas does that and more as a school-based security officer at Sylvan Hills Middle. In fact, she showed incredible courage and awareness as she prevented a potentially dangerous situation from impacting students and staff at the school.
One of the job responsibilities is to routinely patrol all areas of assigned school for illegal or questionable activity. Officer Thomas executed this job duty with extra caution on April 12, 2022. She noticed an unfamiliar male attempting to gain access to the school. Officer Thomas made contact with the individual and attempted to obtain his identity and purpose for being at the campus. As Officer Thomas called for back-up and continued to question the suspicious man for information, he left the campus. The same male went to another facility shortly after leaving Sylvan Hills Middle and physically assaulted a woman which ultimately led to his arrest.
"Officer Thomas' situational awareness and persistence, kept the campus safe and prevented a possible dangerous incident that could have led to a staff member or student being seriously injured," said Mr. William El-Amin, facilitator of safety and security for PCSSD.
The Board of Education created the Inspiration in Education award to honor certified and support staff members who are inspirational to their students or colleagues in their roles at PCSSD. Additionally, the award recognizes employees who exhibit traits including leadership, mentoring, dedication, excellence and effectiveness in their places of work.
The Inspiration in Education award is presented to the winner quarterly in October, December, February and May. Anyone may nominate a PCSSD employee for the award. The applications are reviewed by the Superintendent's Cabinet for ranking, and the highest scorer is named the quarterly winner and receives the award from the PCSSD Board of Education.