LITTLE ROCK, Ark (KATV) — Every third Monday in February is known as President's Day but this day holds even more value in Arkansas. Here we also celebrate Daisy Gatson Bates Day.
Daisy Bates Elementary School in Little Rock, which was built in 2000, held a ceremony Monday to commemorate Bates' contributions to Arkansas and the world.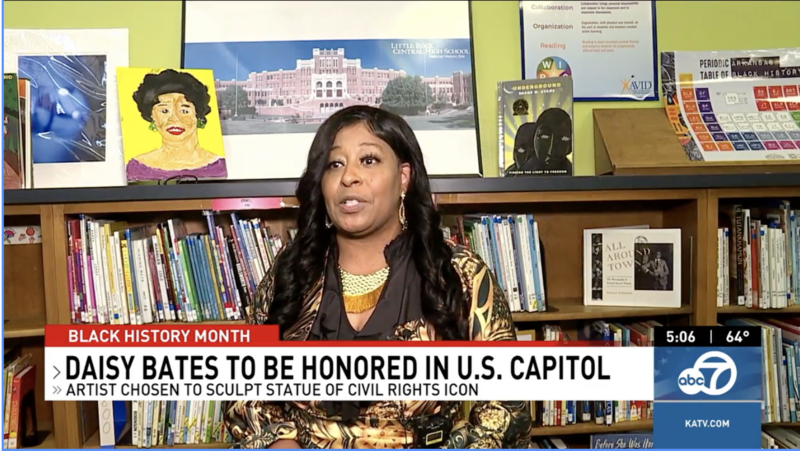 "After graduation from Little Rock Central High to now being principal of Daisy Bates Elementary School, it is truly an honor and I am humbled to continue to walk in her legacy of elevating equity, excellence, and equality for all in education," Masako Christian said.
Here in Arkansas, Bates was the mentor and organizer of the Little Rock Nine who desegregated Little Rock Central High School in 1957. She also started one of the only black-owned newspapers called the Arkansas State Press which was dedicated to the civil rights movement.
"Daisy Bates and her husband were icons in the civil rights movement here in Little Rock," Rep. French Hill said. "Every kid that we have in public school today needs to recognize [that] they stand on the shoulders of success of Daisy's advocacy."
The main speaker was world-renowned sculptor Benjamin Victor who was chosen to create the new statue for Daisy Bates that will be placed in the U.S. Capitol.
Students at Daisy Bates Elementary School also participated in projects, performances, and essay competitions to get involved in the timeless works she produced.
Though they held a special celebration, Christian said that they remember and recognize Bate's legacy throughout the entire school year.