LITTLE ROCK, (Ark.) - The Arkansas Down Syndrome Association BE PART OF THE CHANGE, Down Syndrome Awareness Week, was a great success at Robinson High School.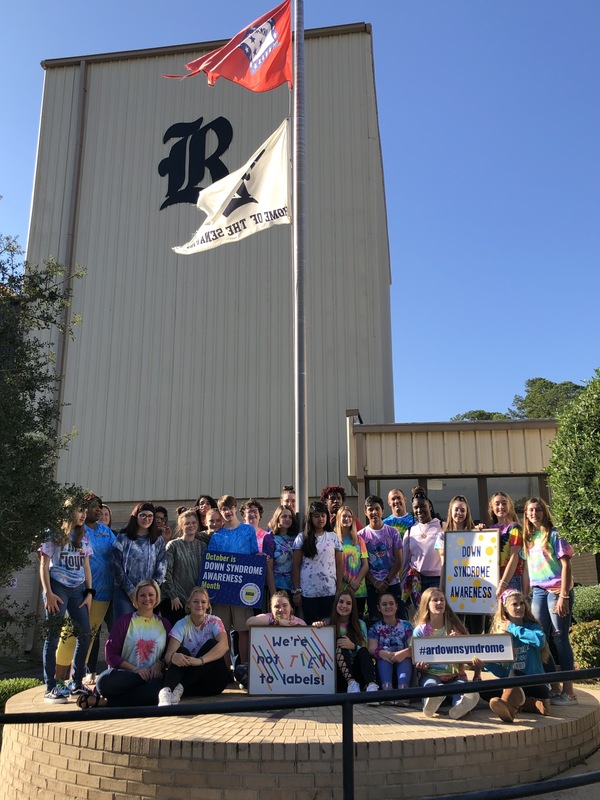 The week of October 7 - 11, students participated in recognizing down syndrome by participating in the Be a Part of the Change promotion. Students brought their pocket change during lunch and received glow-in-the-dark awareness wristbands to wear all week. Students also wore blue and yellow clothing on certain days, participated in crazy sock contests, wore tie dye to show "We're not TIED to labels" and took selfies in the cafeteria at the ADSA selfie-station all week.
Friday night during the game, the football players wore blue and yellow socks, the cheerleaders wore crazy socks and the band members wore blue armbands during their halftime performance—all for Down Syndrome Awareness!
Al Hunt, Michael Joe Lanari, Stephen Lynch, and Nick Woods were honorary football captains at Friday night's coin toss before the game with Nashville.
Check out all the pictures from the week on the PCSSD Facebook page.
The Arkansas Down Syndrome Association is thankful for the $250 raised by the staff and students of RHS and $325 from students and staff at RMS.This money will be used to buy books for new parents of children with Down syndrome. Thank you so much to Ms. Bailey, Ms. Bruks, Ms. Moreland, Ms. Vanbiervliet, Coach Eskola, Coach Dulaney, and Mr. Light for all your help and encouragement this week!